Bird Construction Sponsorship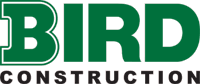 Open to full-time students enrolled in year 2 of Carpentry-Diploma at the Ivany Campus.

Students must demonstrate
Commitment and interest in program and future career
Good academic standing

Payment details
50% ($750) of the funding will be issued upon selection
The remaining 50% ($750) will be issued upon successful completion of a 5 week work term

Work integrated learning and/or post graduate work requirements
Recipients must complete a 5 week work term.

About the sponsor
Bird has over 95 years of construction experience in Canada. As a leading general contractor in Canada with offices coast to coast, Bird Construction has been providing construction services to a long list of new and repeat clients for decades.
Award

2 @ $1,500
Deadline

10/19/2022
Supplemental Questions

To be considered for this award, you must upload a copy of your most recent resume for review.