Yarmouth Hospital Foundation Practical Nursing Award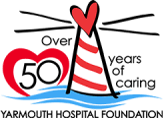 Open to full and part-time students enrolled in any year of study of Practical Nursing and Practical Nursing Re-entry to Practice at Burridge Campus.

Application assessment will consider
Financial need
Good academic standing

About the donor
This award has been made possible by the generosity of the Yarmouth Hospital Foundation.

Established in 1970, Yarmouth Hospital Foundation provides a way for town and municipal units, individuals, businesses and community groups to support the Yarmouth Regional Hospital and its number one priority: building better health care. Through the generosity of our donors, the Yarmouth Hospital Foundation has donated over $26 million in support of your regional hospital. Through our annual appeals, memorial, tribute and general donations, campaigns, staff lottery, third-party events, gifts in wills, major gifts, and our signature events, the Yarmouth Hospital Foundation works with our community year after year to provide continued support and financial assistance towards the purchase of equipment and services that improve the health and wellness of families and individuals of Yarmouth, Digby & Shelburne counties.
Award

2 @ $2,500
Deadline

10/19/2023